A unique exhibition project has been holding the leading position among specialized exhibitions of textile and consumer goods industries of Russia for 20 years. The Fair occupies five largest VDNKh exhibition pavilions and represents at its spaces the whole range of the industry goods from raw materials and equipment to finished products.
The federal wholesale fair of goods and equipment for textile and consumer goods industries TEXTILLEGPROM:
Is the biggest exhibition of goods and equipment for textile and consumer goods industries in Russia and CIS countries
Consists of eleven topic-based specialized exhibitions, which represent fabrics, clothes, knitwear, underwear, hosiery, goods for children, headwear, home textiles, leather accessories, leather, furs, as well as equipment, accessories, yarn, raw materials and supplies for textile and consumer goods industries
Is held twice a year (February, September)
The main idea — a place of meeting for industry professionals, a display of high quality goods and services of the leading Russian and foreign companies
The main objective — conclusion of commodity contracts between manufactures, suppliers and wholesale buyers from Moscow and Russia's regions
Has the total display area of over 40,000 sq. m (5 huge pavilions of the All-Russian Exhibition Centre)
Over 2 000 companies participate in the Fair
Over 37 000 visitors — wholesale buyers and industry experts
Research and training conferences, workshops and roundtable discussions, announcement of results of industry-specific contests — a rich business program is waiting for participants and visitors of the Fair during four working days.
IN PAVILION No. 75,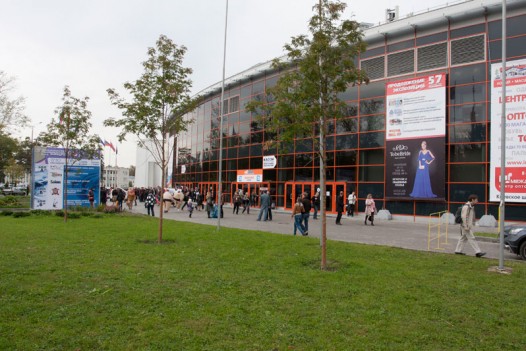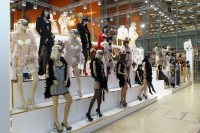 The International Exhibition of Underwear and Accessories evokes delighted looks of all women passing by — the presented designs are so diverse that any woman with any forms may find a model, which fits her perfectly. There are many foreign manufacturers and domestic companies which act as representatives of distinguished brands. But a distinct tendency of the presence of displays of new domestic manufacturers, entering the Russian market with very interesting brands of underwear and hosiery, is traced.
More information about the Exhibition…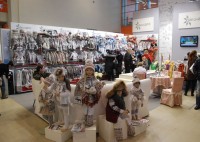 Among displays of the International Exhibition of Goods for Children embarrassment of riches is more than wherever — spring collections of clothes for children will touch feelings of each Fair visitor. Companies offering clothes for babies up to senior school age children participated in the exhibition. A real kaleidoscope! It is encouraging that domestic manufacturers prevail here as well. But in some cases you may learn it only in the course of conversation with a company representative so far as many companies promote their brands under foreign names.
More information about the Exhibition…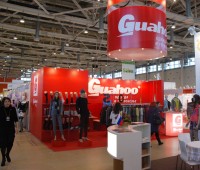 The International Knitwear Exhibition presented a wide range of goods as usual — from underwear to outwear, knitted fabrics, yarn for commercial production and many others. There are many visitors at the displays; everyone is interested in newly-designed products and recent developments presented.
More information about the Exhibition…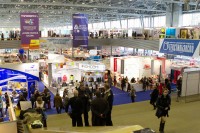 The International Exhibition of Textiles and Accessories for Clothes Manufacturing welcomed and saw the pavilion guests off with peculiarly decorated displays demonstrating the goods to advantage. Wholesale fabrics vendors presented at the displays model forms dressed in a few tens of cloth pieces. A creative team of one of the Exhibition participants decorated the floor in the form of a box with sewing accessories covered with a glass cover — so actually it was a real embarrassment of riches for many visitors.
More information about the Exhibition…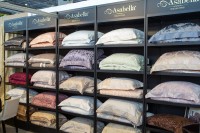 The International Exhibition of Furnishing Fabrics, Home Textiles and Interior welcomed its visitors with peculiar displays, demonstrating the products from new collections "at work": beds with bed linen and rug blankets, curtains, towels, etc. At every turn welcoming consultants willingly told about new collections and invited to cooperation. Representatives of big wholesalers and home textiles shops conducted negotiations and concluded contracts at many displays. Many visitors wanted to consult with the display representatives with regard to window dressing.
More information about the Exhibition…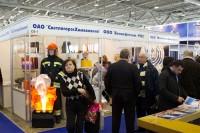 At the exposition of the International Exhibition of Technical Textiles, Nonwoven Fabrics, Protective Clothes and Primary Resources come-and-go people were rare. The Exhibition participants demonstrated samples of products, raw materials for consumer gods industry to expert visitors. The quality of threads was seen from one or two coils, innovative technologies were presented by promotional materials — everything was clear-cut and easy-to-understand, negotiations were conducted at all displays.
More information about the Exhibition…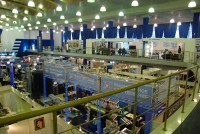 The International Exhibition of Equipment and Technologies for Textile and Consumer Goods Industries.
More information about the Exhibition…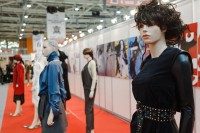 For implementation of the main contest idea — to unite creative and industrial potential and to implement designer projects — a demonstration of sketches and samples of clothes at the exhibition is an excellent way: the manufacturers could identify which models were closer to them and to establish contacts with the authors of the developments they like.
IN PAVILION No. 69,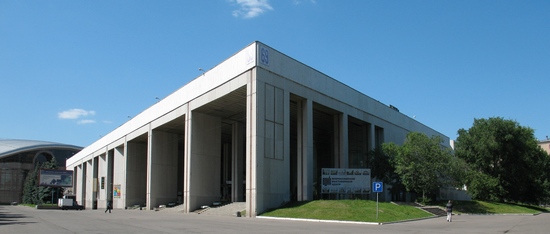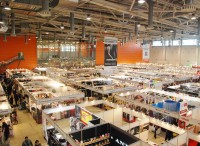 Displays of the International Exhibition of Clothes, Headwear and Accessories welcomed its visitors with new collections of fashionable clothes. Bright colors and interesting designs attracted experts and afforded excellent opportunities for getting acquainted with new tendencies, professional communication and, as the result, for conclusion of wholesale contracts.

Here as well, within the 40th Federal Wholesale Fair TEXTILLEGPROM, a completely updated 11th contest "Perspektiva" (Prospect) and the first stage of the Best Fabric 2013 contest were held.
More information about the Exhibition…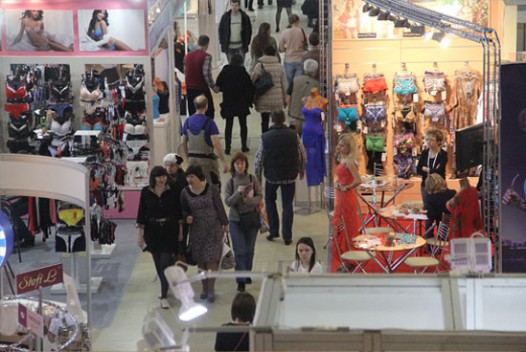 DATA ON EXHIBITION AUDIT
of the Federal Wholesale Fair Textillegprom submitted by independent auditing firm RussCom IT Systems.
Based on the results of questioning the participants and the visitors of the 44th anniversary Federal Fair, high standards of the Fair were confirmed:
The participants achieved three main established objectives: raising visitors' awareness about the goods and services offered, search for potential customers and increase of the enterprise popularity level. They believe that their expectations of participation in the Fair were satisfied and they are planning to participate in subsequent fairs.
Visitor flows have been growing from fair to fair. According to the data from the compulsory registration conducted at the fairs, the number of experts from Russia's regions and neighboring countries has been growing. Against practically full coverage of Moscow and neighboring regions a big inflow of regional wholesale and retail trade representatives involves an inflow of manufacturing enterprises interested in establishing regional contacts as well.
An informative business program adds extra incentive for the Fair to be visited by experts engaged.
Convenience and ease of use of the exhibition services, beginning with the site of the Federal Fair www.textilexpo.ru where you may draw up an application for participation or register as a visitor, see in advance the list of the nearby hotels, the list of the participants, their location at the Fair territory, etc., constitute additional advantage as well as allow to accumulate at one site during four Fair days all experts engaged.
RICH BUSINESS PROGRAM
will allow to discuss topics in question, ask questions to competent experts on the most important directions of the industry development, fashion, market conditions, innovations in machinery and technologies, efficient methods of product promotion, and to share best practices. It includes events differing by topics and formats: specialized informational and methodical workshops, roundtable discussions on topical matters for experts from textile and consumer goods industries.
More information about the business program…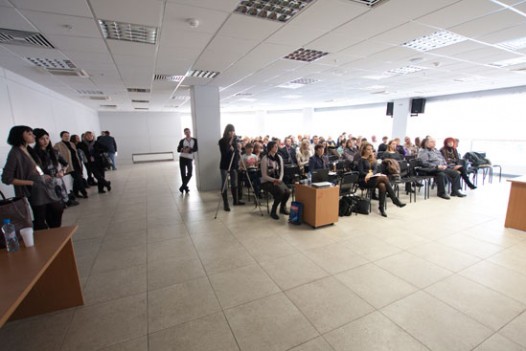 CONTEST "PERSPEKTIVA"
within the Federal Wholesale Fair TEXTILLEGPROM will be completely updated.
Within the framework of the contest program students from educational institutions of higher and secondary vocational education, which conduct training of specialists in design, construction and technology of manufacturing of clothes and accessories, will show their works not to the committee of experts only, but to all participants and visitors of the Fair as well.
Each time its organizer, Textilexpo JSC, encounters a complicated task: to satisfy requests for participation from a vast number of companies.
Being aware of the fact the most permanent participants are planning their participation and reserving the sites for the September fair right away!