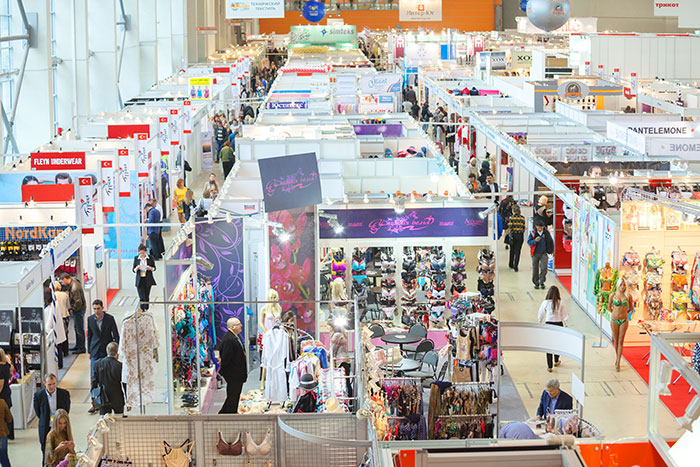 The 49th Federal Trade Fair for Textile & Light Industry, Textillegprom, the largest fair of textile and light industry goods in Russia and CIS member countries, took place at Moscow's VDNKh Pavilions 69 and 75 between August 29 and September 1, 2017, and traditionally proved successful.
Organizers: JSC Textilexpo, the Russian Union of Textile and Light Industry Entrepreneurs, PJSC Roslegprom, LLC RLP-Yarmarka
Patrons: The CCI of Russia, the CCI of Moscow
With the official support of: The Russian Industry and Trade Ministry, the Russian Economic Development Ministry, the Moscow Government, the Russian Union of Industrialists and Entrepreneurs, the Russian Union of Commodity Producers, and the Association of Children's Goods Industry.
With the participation of: JSC VDNKh, JSC Interopttorg
The Federal Trade Fair for Textile & Light Industry, Textillegprom, has been a leader of textile and light industry shows in Russia, CIS countries and Eastern Europe for the past 25 years, featuring:
the overall exhibition space is 40 000 square meters;
2,103 participating companies;
twenty-seven participating countries, among them Azerbaijan, Armenia, Bangladesh, Belarus, Bulgaria, Hungary, Germany, Greece, India, Indonesia, Italy, Kazakhstan, China, Kyrgyzstan, Latvia, Lithuania, the United Arab Emirates, Pakistan, Poland, Tajikistan, Turkey, Uzbekistan, Croatia, the Czech Republic, Switzerland, South Korea, and Japan;
according to registration statistics, 31, 576 specialists visited nine salons of the Fair, each of which was the segment's leader demonstrating products by majors of the domestic and foreign apparel and textile industry.
The 49th Federal Trade Fair for Textile and Light Industry, Textillegprom, also displayed national expositions of Armenia, Belarus, India, China, Kyrgyzstan, Tajikistan, Turkey, and Uzbekistan.
The Apparel Textile Salon presented 607 exhibitors from 12 countries, among them Gamma – Sewing Accessories, Damskoye Schastye, JSC Kirov Knitwear Factory, JSC Troitsk Worsted Mill, LLC Pekhorsky Textile, LLC Iris, LLC Baltex, LLC Protextile, Raduga Textile, UNSEN, DIWITEX, LLC BelMEKH, LLC Solstudio, LLC Yegoryevsky Textile, GalaPoligraph, etc.
The Technical Textile and Raw Materials Salon had 92 participating companies from 13 countries, among them LLC BTK Textile, JSC Integration and Development, JSC Vostokkhimvolokno, LLC Z-TEX, JSC Mogotex, LLC Belneftekhim-ROS, JSC Mogilevkhimvolokno, JSC SvetlogorskKhimvolokno, JSC Ruchaika, the Moscow representative office of CHT R. Beitlich GmbH (Germany), the representative office of the private company LCC Huntsman BV (the Netherlands), Schoeller GmbH & CoKG, Pulcra Chemicals GmbH, etc.
The Home Textile Salon comprised 126 companies from 11 countries, such as ART Design, JSC Baranovichi Cotton Production Amalgamation, LLC Vavilon S, LLC LAKASA-TEX, LLC Protex, TexRepublic Group, LLC Fortex & Co, Orsha Flax Factory, PJSC Uzor, LLC Valteritextil, LLC Gutten Morgen, LLC Profit & Boyartex, LLC Russky Dom Textile Company, LLC Solidarity Textile Company, LLC Pavlovo-Posad Silk, etc.
The Lingerie Salon involved 157 companies from eight countries, including LLC DoniElla, The Woman, LLC Pantelemone Factory, SIA Novella, LLC Textile Professional, LLC Catherine II, LLC Pike Sewing Factory, LLC Mariposa, etc.
The Salon of Knitted Fabrics featured 87 companies from six countries, such as DEKNA MADIO TEXTILE, LLC Sim Textile, UNTEKS, LLC Universal Ltd., LLC Solntse Textile, LLC Train Consultancy, LLC Modny Textile and many more.
The Salon of Knitwear involved 404 participating companies from 15 countries, including GRAND Hosiery Factory, JSC Rus Firm, LLC Almetyevsk Alsu Hosiery Factory, LLC Krasnaya Vetka, JSC Smolensk NASHE Hosiery Factory, LLL CONTE SPA, JSC Svitanak, JSC Brest Hosiery Factory, JSC Borisoglebsk Knitwear, etc.
The Children's Salon engaged 72 companies from 7 countries, among them LLC Inter-Yug, YULLA Knitwear Factory, LLC Sima-Land, LLC MIATEX, GRANDCAPS, LLC Detskaya Moda, LLC ECOTEX, etc.
The Salon of Garment & Accessories brought together 477 participants from 16 countries, and presented over 300 Russian and foreign brands, for instance, Fashion House, Biriz Tekstil, Calista, Donna Saggia, Greg Horman, Optimist, Montserrat Collection, Palla, BF Collection, French Style, etc.
The International Salon of equipment and technologies for Textile and Light Industry (Textillegmash) involved 81 companies, which presented products of 112 Russian and foreign manufacturers from 15 countries, such as KNIT Group, LLC TransMetall, Shveimash, VELLES Group, LLC Geran Lux, etc.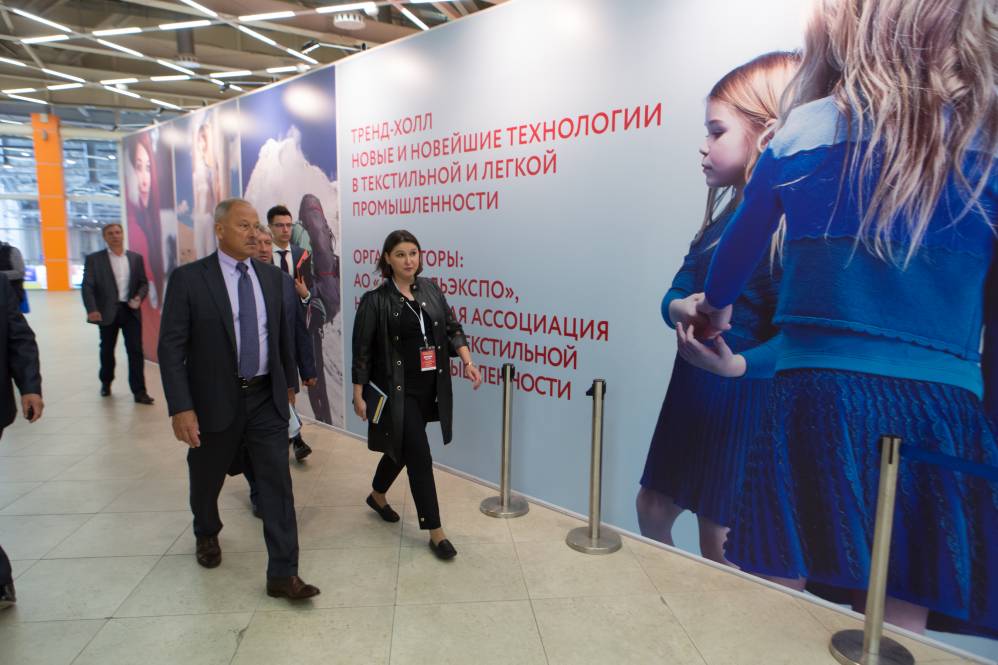 The Fair introduced its participants and guests to the new project, TREND HALL "New and Latest Technologies in the Textile and Light Industry", presenting the implementation of state-of-the-art technologies by domestic industry majors using Russian materials.
The Trend Hall 49 of the Federal Trade Fair, Textillegprom, won attention of visitors and exhibitors, which studied the new format, received information of their interest, and communicated between themselves.
The 49th Federal Trade Fair, Textillegprom, hosted the second Business Forum of Textile and Light Industry. The Forum consisted of several blocks, the most important of which was the second panel debate with the theme, "State Programs and Financial Mechanisms to Support and Encourage Competitive Edge and Export Potential of Apparel and Textile Enterprises", which was organized by the CCI of Russia, JSC Textilexpo, and the Russian Union of Textile and Light Industry Entrepreneurs.
CCI of Russia Vice-President Vladimir Dmitriyev moderated the debate attended by representatives of the Russian Economic Development Ministry, the Industrial Development Fund, the Russian Export Center, the Federal Customs Service, and the Russian Small and Medium Business Corporation.
Russian manufacturers were very enthusiastic about two practical conferences with the theme "High-tech Fabrics and Modern Accessories. Modern Knitwear Production Technologies" and "Newest Textile and Apparel Industry Equipment. High-tech Insulation and Modern Down Technologies. Seamless Technologies in Underwear and Clothing Production". The areas are due to be developed.
See a detailed report on the Second Business Forum at www.textilexpo.ru in the business program section.
The 49th Federal Trade Fair, Textillegprom, enjoyed support of over 50 printed and electronic media outlets. In addition, the Fair used information and advertising capacities of 15 Russian regional exhibition centers, Textilexpo partners.
A poll of exhibitors and visitors showed that 98% of the exhibitors were satisfied with their performance at the fair, and 92% pledged to participate in the 50th Fair next year.
JSC TEXTILEXPO IS SINCERELY GRATEFUL TO OUR PARTNERS, AND EXHIBIROS AND GUESTS OF THE 49TH FEDEDERAL TRADE FAIR, TEXTILLEGPROM!
WE ARE INVITING EVERYONE TO PARTICIPATE IN THE 50TH FEDERAL TRADE FAIR, TEXTILLEGPROM, DUE BEWTEEN MARCH 20 AND 23, 2018!
JSC Textilexpo Advertising Department